Best Restaurant Advertising Marketing Idea! See How Rickshaw Advertising & Marketing helped Nando's Restaurants in London!
Best Restaurant Advertising & Marketing Idea explained with example
Pedicabs are unique restaurant advertising idea! Objective of the Pedicab Promotion idea for Nando's as follows :
The objective of this piece of Restaurant marketing event idea is to create a presence for Nando's within the West End but away from Nandos restaurants. It is to remind workers , tourists and theatre goers of the Nando's brand and what Nandos stand for. With this marketing campaign Nandos will stand out and add an element of fun for all. Rickshaws will nudge people into Nandos restaurants and offer a great experience by taking customers straight to Nandos door. What medium could be better than Rickshaws for advertising restaurant business? This is one of the best restaurant advertising example you may find!
Nandos required 2 x rickshaws for the duration of 15 days. The rickshaws were branded with a Nando's design and will looked great. Nando's provided the artwork, London Rickshaw Hire applied the branding to the vehicles.
Nando's viewed the finished rickshaws prior to the activity commencing. This was arranged day before the commence date at Nando's Soho.
Nandos required music, specified by Nando's, to be played on the rickshaws. Nandos provided the play list and an iPod, London Rickshaw Hire ensured there is the facility to play this throughout the day.
The rickshaws had hoods that can be activated when rain. The drivers managed this for customers.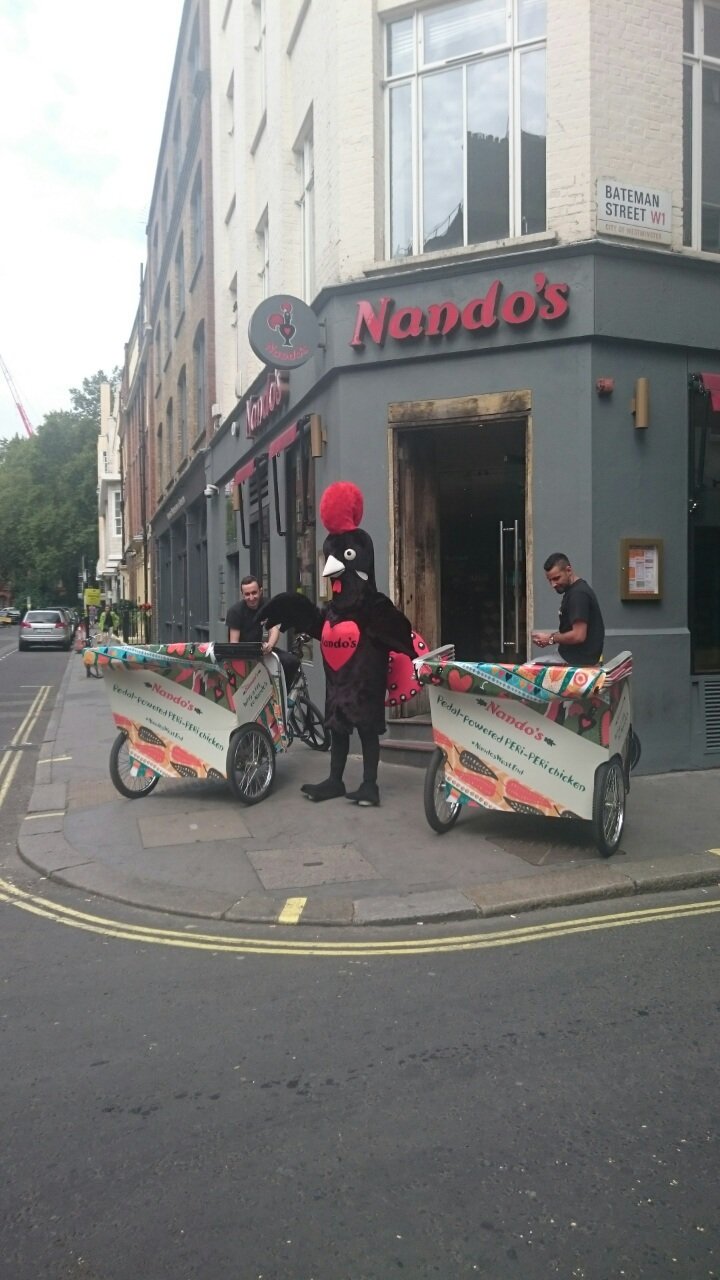 Drivers:
London Rickshaw Hire provided 2 x drivers for the duration of the activity.
Nando's supplied a t-shirt and cap for the drivers to wear. London Rickshaw Hire provided sizes two seeks prior to the campaign.
In line with the Nando's brand, the drivers followed the below qualities:
Friendly, personable and fun
Willing to engage with our customers should they have any questions
Be able to represent the Nando's brand at all times through their behaviour
Nandos advised which drivers will be working with them on which days. Nandos wanted to keep this as consistent as possible however obviously need to allow for days off.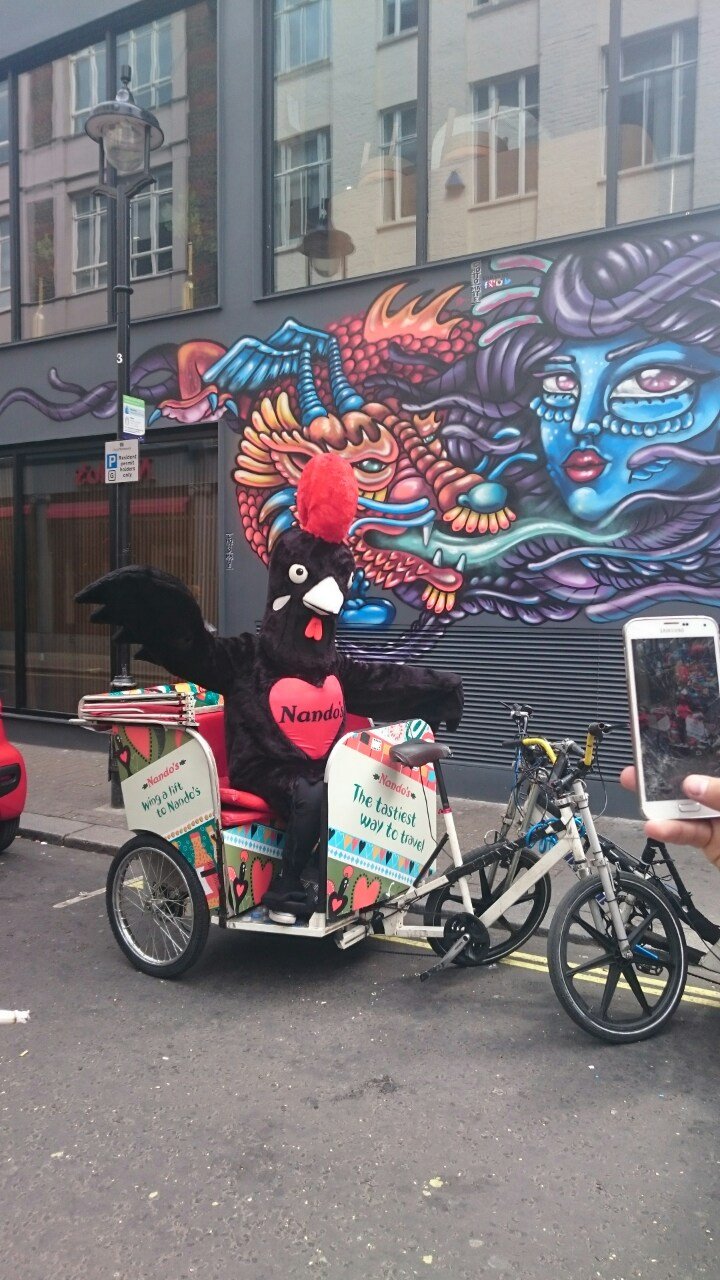 Schedule
The activity will run for 15 days straight. commencing on Sunday 16th August.
Nandos identified the base location for the rickshaws. At this base, the rickshaws stationed along with 2 team members from Nando's. One dressed in Nandos mascot outfit and one communicated with customers to engage them in the activity and offer them free rides to Nandos restaurants.
Once a trip is confirmed, the rickshaw took the customers to the restaurant identified by Nando's staff. Drivers were familiar with the locations and routes prior to 16th. They then dropped them outside the restaurant. At no point riders requested any monetary (or otherwise) payment for this service.
The rickshaw made its way back to the base location to repeat.
Nando's brand, who Nandos is, their heritage and their culture. Both parties can outlined their expectations for the subsequent 15 days.
Below Nandos Restaurants Participated in this campaign;
Soho – Covent Garden – Glasshouse Street – Berners St – Goodge St – Great Portland St – Victoria Wilton Road – Victoria Cardinal Place.